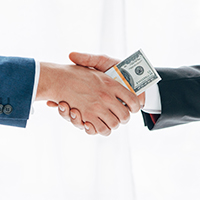 Corporate giving and corporate philanthropy have become buzzwords in the nonprofit fundraising space, and for good reason. When nonprofits take the time to foster corporate partnerships, these relationships have the potential to become long-lasting, mutually beneficial arrangements between the nonprofit and for-profit world. 
As a nonprofit fundraising professional, you might be part of the push within your organization to maximize your corporate partnerships for a greater fundraising boost. To increase your nonprofit's success with this fundraising source, there are a few things you need to understand about what corporate giving means for your organization and for the businesses you'll be working with.
Our nonprofit consultants here at Aly Sterling Philanthropy work with nonprofits every day to help them make the most of their fundraising strategies. Through that work, we've seen how corporate philanthropy can become one of many significant funding streams. When working with corporate partners, your nonprofit should understand:
The importance of corporate giving for your nonprofit.
The importance of corporate giving for businesses. 
The different types of corporate philanthropy.
How to market corporate giving opportunities.
How to develop long-term corporate partnerships.
Ready to learn more about the significance of corporate philanthropy for your organization's fundraising efforts? Let's get started!
1. The importance of corporate giving for your nonprofit.
Corporate philanthropy has a wide variety of benefits for both nonprofits and their corporate partners, but we're first going to review what these programs are and what they can do for your nonprofit.
"Corporate giving" means any efforts corporations make to support nonprofit partners. This support can take the form of monetary donations, in-kind donations, volunteering and corporate philanthropy programs (we'll go into more detail on these in the third section of this guide).
The obvious benefit of corporate giving is that donations from businesses can boost funding to support nonprofit causes. In fact, according to 360MatchPro's corporate giving statistics, the top 10 corporations routinely donate over $2 billion in cash to nonprofits each year. 
While it's by no means the only revenue source for nonprofits, corporate giving is a significant contributor to charitable organizations. When combined with other major donation sources like foundation and government grants, individual major donors, membership fees and any other revenue sources, corporate giving can help diversify your fundraising efforts and provide a little more breathing room when creating your budget. 
Plus, corporate partnerships represent a major opportunity for your nonprofit to access a new audience of supporters. When corporations encourage their employees to give back or host company-wide volunteer events, they provide you with a new group of motivated donors and volunteers with whom you can start to build relationships. 
Whether your organization is kicking off a large-scale fundraising project such as a capital campaign or conducting smaller-scale fundraising campaigns, your corporate partners can provide a source of support. 
2. The importance of corporate giving for businesses. 
On the flip side, for-profit organizations also benefit from participating in corporate giving programs. These benefits include:
Better engagement with customers and a PR boost. More and more, consumers prioritize doing business with companies that engage in corporate social responsibility (CSR) to positively impact the well-being of their communities and stakeholders. Through CSR initiatives, these companies demonstrate their commitment to sustainability, equity and philanthropy by adopting better business practices, creating important partnerships and providing financial and volunteer support to a myriad of causes. If genuine and done well, these efforts can boost a company's reputation and lead to increased customer loyalty. 
Better engagement with employees. By offering matching donations or paid time off for volunteering, businesses can demonstrate commitment to their employees' well-being and sense of purpose. This is great for employees because it promotes a happier, more engaged office environment, and good for businesses because it encourages employee engagement and serves as an effective recruitment and retention tool.
Access to new marketing opportunities. Partnerships for specific projects, such as sponsoring a high-profile event or funding a new building, often offer attractive marketing opportunities. Whether adding their name to a t-shirt or the side of a new building, business owners get a boost from getting their name out in the community and associating themselves with philanthropic giving. 
As a nonprofit professional, it's important to understand what businesses get out of corporate philanthropy programs so that you know the best way to appeal to your corporate partners. It's in your best interest to inspire your corporate donors to get involved in philanthropy, and these benefits can give you a few talking points along the way. 
3. The different types of corporate philanthropy.
Corporate philanthropy can take many forms. Many large companies have comprehensive corporate social responsibility programs through which they contribute millions of dollars per year to nonprofits, while other businesses have much smaller-scale corporate giving initiatives. Within their corporate philanthropy program, many businesses include these specific giving initiatives:
Matching gift programs: These programs involve companies matching donations made by their employees to eligible nonprofits. This has the potential to double, triple or sometimes even quadruple the impact of a single donation. While these programs are highly impactful, this guide to corporate matching gift programs states that up to 78% of match-eligible donors are unaware that their company offers a matching gift program. But your organization can change that statistic—we'll explore a few marketing tips in the next section!
Volunteer grants: In a volunteer grant program, businesses contribute a donation after their employees volunteer a certain number of hours with an eligible nonprofit. Corporations will typically set criteria for eligibility, such as after volunteering for 25 hours, the business will make a $150 donation. This encourages employees to volunteer more and maximize the impact of their time contributions. 
In-kind donations: This is another type of corporate donation, but instead of a monetary gift, businesses donate goods or services to a nonprofit cause. For example, if your nonprofit hosts an annual auction, you might receive a donation of concert tickets sponsored by a local business, or a barbecue package donated by a nearby outdoors store. Or, a local restaurant might donate catering services for your volunteer days. These donations can provide valuable support for your initiatives and help boost brand awareness for businesses. 
Businesses often also make monetary donations outside of formalized giving programs. As awareness of the benefits of corporate social responsibility has grown, so too has the abundance of giving opportunities that connect the corporate and nonprofit worlds. 
4. How to market corporate giving opportunities.
It's your fundraising team's job to identify prospective corporate sponsors within the community and reach out to them to raise awareness of the benefits of partnering with your mission. Plus, you must identify your match-eligible donors and send them reminders to get their gifts matched by their companies. 
Here are a few strategies to effectively raise awareness of corporate giving:
Reach out to potential corporate sponsors personally. Set aside some time for a one-on-one phone or video call with potential corporate donors or send a personalized letter. Be sure to highlight statistics about what their support will help your organization achieve, and don't forget to mention the benefits that their company will receive from the partnership. 
Embed a matching gift database on your donation page. With a service like Double the Donation, you can embed a matching gift database directly into your online giving form so donors can immediately check their eligibility. Then, you can follow up with information about how they can get their gifts matched.
Use your website to promote corporate giving. Create a page on your website that highlights the benefits of corporate giving, showcases your corporate partners and serves as an educational resource for businesses interested in starting their own philanthropy programs. 
Promote corporate giving with your social media and email newsletters. Send ongoing educational content on all your digital communication platforms. Be sure to frequently link to your online giving page or corporate philanthropy webpage. 
You can store the information you gather about your corporate partners and match-eligible donors in your CRM database for future reference. For instance, if you notice a match-eligible donor contributes a second time without getting their gift matched, you can follow up with personalized communications urging them to take advantage of their match eligibility. 
With these strategies, you can promote awareness of corporate philanthropy for both businesses and individuals so that you can take advantage of these often-overlooked opportunities. 
5. How to develop long-term corporate partnerships.
After you've put in the effort to bring corporate partners on board with your cause, you must steward them diligently to ensure you retain their support for the long haul. As with any donor, it's much more cost and time-efficient to maintain your current relationships than develop new ones. To cultivate these partnerships, you should:
Involve your sponsors in ongoing activities. Your corporate sponsors are a part of your team, so you'll want to involve them in all aspects of your mission. For example, invite them to your annual gala or virtual peer-to-peer fundraising events and equip them with the information they need to be successful. This will make them feel more engaged in your mission and like they're active participants in helping achieve your goals.
Express frequent appreciation. Send thank-you letters to both your corporate partners and the donors who get their gifts matched. Make sure you let them know what their donations help fund and the specific impact they made for your organization. This will help emphasize the idea that your nonprofit is actively putting their gifts to use and is worthy of their continued support. 
Solicit the help of a fundraising consultant. A consultant can help equip your team with the strategies and framework needed for long-term success with not only your corporate partnerships but also all other aspects of your fundraising strategy. Be sure to check out this resource for hiring fundraising consultants to help guide you through the process. 
Overall, it's important to make your corporate partners feel acknowledged and appreciated. Even small gestures like a handwritten note can go a long way toward retaining their consistent support. 
---
Strengthening your nonprofit's corporate partnerships can ultimately provide your organization with another fundraising stream that contributes to your diversified strategy. If you understand the benefits of corporate giving for not only your organization but also your corporate partners, you can market these opportunities more effectively to get more sponsors on board. A fundraising consultant can help you refine your approach and establish the foundation needed to build lasting relationships. Good luck!
About the author
Long before Aly Sterling founded her eponymous consulting firm, she was solving the unique yet similar problems encountered by nonprofit organizations. Her decision to start her own business in 2007 was driven by her belief in leadership as the single most important factor in organizational success, and her determination to work with multiple causes at one time to scale societal change. Aly's expertise includes fundraising, strategic planning, search consultation and board leadership development for the well-positioned nonprofit. She is regularly sought for comment by trade and mainstream media, including the Chronicle of Philanthropy and U.S. News & World Report. She has contributed to publications of BoardSource and The Governance Institute, as well as the Toledo Chamber of Commerce and The Giving Institute.