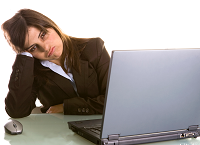 You did it! It took you three months of careful research, but it was worth it because you purchased a great software solution. You spoke with your peers, met with colleagues, sat through countless demos and researched references. After negotiating and inking a fantastic deal for your organization, you scheduled the kick-off call, vowing to make the software implementation a top priority. That was six months ago. Now the weekly status calls are frustrating, and the project has stalled out. Instead of using your new software, you are still leaning on your old system. The very same system you hated six months ago. What went wrong? Is it too late to get your implementation project back on track?
Why does a software implementation stall out?
It is more common than you realize for an implementation to stall out. Shifting priorities happen; it is easy to get caught up in the day-to-day activities and push an implementation project onto the back burner. Employee turnover or even a global pandemic can cause delays in implementation. The key here is whatever the reason, it is never too late to get back on track. Here are some easy steps to help you jump-start your stalled implementation.
Steps to jump-start a stalled implementation
Take a deep breath and engage with your software solution provider
These things happen. A good software partner knows how to help you get your project back on track. Communicate with your project lead and make them aware of your goal to restart the implementation. Work with your project lead to identify new realistic timelines and commit to the plan.
Identify previous roadblocks: acknowledge them and keep moving forward
Knowing what went wrong and what caused the roadblocks helps you avoid them in the future. While it is perfectly acceptable to acknowledge what caused the roadblock, for example, poor communication, poor status meeting attendance, or employees on vacation, there is no need to dwell on them. Decide how to avoid these roadblocks in the future, and make sure your entire implementation team is on board. If poor communication was an identified roadblock, for instance, agree as a team that all emails must be answered within a specified time frame.
Avoid pointing fingers and assigning blame
As stated earlier, there are so many reasons why an implementation goes off track. There were probably missteps from both you and your software provider. Regardless, pointing fingers will not improve the situation. With your internal team, commit to open communication and working together. With your software provider, whatever you do, avoid looking for a clause in your software contract to prove you have been wronged. This might be a natural reaction, but remember, this action will damage your relationship with your software provider. It may not seem that way to you amid a stalled implementation, but your software provider does want your implementation to go off without a hitch. Instead, discuss your concerns and frustrations with your sales associate or account manager. Turn them into your advocate and you might find your new ally a stronger tool than any clause in a contract.  
Keep lines of communication open with your project lead, even if it gets awkward
When evaluating what went wrong with the initial implementation, acknowledging the roadblocks may cause some awkwardness. You may have missed a handful of status meetings and deadlines. Maybe your consultant has failed to respond to your emails for a few days. Whatever the roadblock, your instinct may be to avoid these topics to prevent conflict. Acknowledging what happened in a constructive way is the best way to ensure history does not repeat itself, even if it will be an awkward conversation.
Have that frank and painful conversation with your entire team. Reinforce your goal to complete the implementation and begin using the new software. Actively voice your commitment to working together. Remember, your project lead wants you to be successful with the new software just as much as you do. Making your project lead your partner in the implementation is the smoothest and most effective way to get your project moving forward.
Set realistic expectations and don't give up
In the excitement of relaunching your implementation, it's easy to set aggressive timelines and unrealistic expectations. Remember, the project veered off course over weeks or months. It will take some time to get things back on track. Pick some key dates, discuss them with your team, and come to an agreement. Get buy-in from management as well. Ask for an executive or manager from the project team to attend the status call. This is a great way to ensure everyone is on the same page and understands the expectations.
There is nothing more frustrating than paying for cutting-edge software that you can't access. As new technology that helps improve processes develops, so does the complexity of implementing a new integrated software. It is not uncommon for software implementations to stall and old habits to circumvent the new software. The key to a successful implementation is to keep the lines of communication open, and realistic expectations. Even when your implementation goes askew, there are practical steps to help you get your implementation back on track.
---
About the author
Matt Kreutzer is the regional sales manager at Zobrio. Matt has a well-rounded background with a Bachelor's degree in finance and experience working as an accountant for a private entity. He has successfully used his personal experience and expertise to help government and nonprofit organizations solve their fund accounting, budgeting and cash management needs for nearly a decade. Matt is also actively involved in a local nonprofit organization, serving as Treasurer for over 5 years.