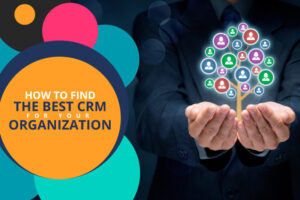 As your organization grows, having a data management system that can keep up is no longer optional — it's necessary to keep you in business. Nonprofits must organize supporter data to boost efficiency and improve fundraising efforts. These tasks are challenging and time-consuming without a dedicated system, even for the most productive fundraising teams.
It's not only essential to find a constituent relationship management (CRM) system that can store accurate and comprehensive information but to find one that best meets the needs of your organization. Whether you conduct advanced fundraising, marketing, or even advocacy efforts, you must assess the unique aspects of your organization to choose the best CRM solution that simplifies your processes and aligns with your goals. 
While you may ultimately seek the services of a nonprofit strategy consultant to help make this decision, there are a few steps you can take right now to start your search. We'll walk through these steps in the following sections: 
Considerations to keep in mind as you search
Comparing top options
Making your choice
Adding advanced technology to your toolbox is critically important. You must identify top solutions, implement those solutions, and train staff members on best practices. These tips are meant to steer you in the right direction to ensure the shopping process ends in success. Let's jump in!
Considerations to keep in mind as you search
Before you dive into your research, sit down with your team to review your current tech stack and future goals. Ask these questions:
What problems are we experiencing that better data management would solve? Examples of problems might include low fundraising revenue, disparate tech solutions that would be more effective if they were united into one system, or a disjointed donor stewardship approach.
What is our time frame for transitioning to a new system? It takes a while to completely transition to a new system, so take a look at your calendar to determine if you have enough time to devote to this process.
What does success look like after this process is complete? Once you've transitioned to your new system, what goals would you like to accomplish with it? Additionally, determine who is responsible for pushing this project forward and ensuring that the team crosses the finish line. 
Additionally, review your organization's specific characteristics to find a CRM that fits your requirements. You'll likely have to obtain buy-in from your board, so be sure to solidify your reasoning and anticipate questions and concerns. Consider the following: 
The size of your organization. Some CRM solutions are better equipped to manage data for large organizations, while others struggle to handle massive amounts of information. Take into consideration the size of your organization to find a solution that can properly manage your data. 
Your budget. How much can you afford to spend on a CRM system? Keep your budget in mind as you research, and remember that the cost of implementation includes more than the software itself. Custom configuration, team training, software licensing, and other consulting services will need to be factored in. 
The degree of customization you desire in your system. Some CRM solutions come pre-programmed with all the functionality you need, while others require a greater degree of customization. Consider what's most important — immediate and easy use or a more involved system that allows for greater customization. 
Training and implementation. Along with varying degrees of customization, each system will have different implementation and training timelines. The CRM implementation process typically involves goal setting, initial customizations and integrations, testing, data migration, and training (with each stage lasting multiple weeks or months). Think about what's on your team's plate and how much time you have to get everyone up to speed. 
Once you've thought through these questions, you'll be better prepared to start assessing top options. This pre-planning process provides you with parameters and guidelines through which to filter your CRM research. 
Comparing top options
As you begin your search, you'll notice there are two popular options for CRM systems you've likely come across the most: Blackbaud's Raiser's Edge NXT and Salesforce's Nonprofit Success Pack (NPSP). 
These two providers are leaders in the data management space because of their full range of functionality and accessibility. However, they aren't identical. Here's an overview of the main features of each solution from DNL OmniMedia's Blackbaud vs. Salesforce comparison:
As you can see, while these solutions share many similarities, such as price and user-friendliness, they differ in a few areas as well. Let's take a closer look at each option: 
Blackbaud
Blackbaud is a powerhouse data management solution provider that's served the social good sector for years. One of Blackbaud's most popular CRM solutions for nonprofits is Raiser's Edge NXT, an out-of-the-box CRM option used by nonprofits to:
Organize donor data: Fundraising managers can keep track of online gifts and set up campaign-tracking programs to monitor the success of fundraisers. 
Track supporter engagement: Beyond basic information, your organization can set up customized data fields based on your organization's needs. Create custom fields to track engagement metrics such as event registrations, communication history, donation frequency, and more. 
Streamline internal processes: Team leaders can store task information and team guidelines within the system and manage responsibilities. You can also create role-based work centers so staffers can access the information most relevant to their positions.
Boost marketing and communications: Segment supporter groups based on shared characteristics to conduct more strategic marketing and stewardship efforts. Additionally, you can generate marketing campaigns on social media, email, and other platforms, all within one system. 
Raiser's Edge NXT is ideal for mid-sized to large nonprofits because its out-of-the-box functionality means any organization can quickly get it up and running. This solution was built specifically for nonprofit use, so it already has the built-in tools and features that all nonprofits need. 
Blackbaud also offers additional products to meet nonprofit demands. For instance, Luminate Online is an engagement platform that empowers nonprofits to conduct effective digital marketing campaigns, while TeamRaiser facilitates productive peer-to-peer fundraising efforts.
Further, nonprofits use Blackbaud Financial Edge NXT specifically to handle accounting tasks. Plus, integrations between these products and RE NXT allow for seamless data transfers to conduct more effective fundraising and relationship-building activities. 
Double the Donation's overview of top Blackbaud integrations describes a few of the best custom software options to integrate with your Blackbaud system. These include tools for: 
Finding matching gift opportunities
Conducting better digital fundraising
Managing alumni for schools and universities
Although this solution is readily available for nonprofits to dive in, you'll still want to devote some time to get your team up to speed and train members on best practices to have the most success with this system. 
You'll also want to work with a consultant for guidance. While RE NXT has a lot of out-of-the-box functionality, it will be difficult, if not impossible to get started and successfully migrate your data without the help of a consultant. 
Salesforce
Salesforce, a long-time data management provider, traditionally associated with for-profit businesses, offers a CRM overlay for nonprofits called the Nonprofit Success Pack (NPSP). NPSP is a pre-configured version of Salesforce's core CRM product, the Sales Cloud. The solution takes the foundation of the Salesforce platform and customizes it to meet the specifications of nonprofits.
NPSP has these features for nonprofit use:
Relationship-tracking abilities: Often, donors have familial or business relationships that nonprofits can track to discover new possibilities for prospective donors or corporate matching gift opportunities. NPSP can manage this affiliation-tracking process. 
Campaign management: Fundraising professionals can track gifts, volunteer engagement, and the progress of fundraising campaigns. 
Reporting features: Nonprofit leaders can gather reports from fundraising and marketing campaigns and assess their effectiveness with their team. 
Customization: NPSP is open-sourced, meaning you can customize the system to fit your organization's requirements and goals.
Further, there are plenty of Salesforce integrations nonprofits gain access to with this system. This page explores top Salesforce apps such as tools for:
Payment processing
Donor management
Marketing and email communications
One of NPSP's greatest strengths is its ability to scale as you grow. If your organization has more complex strategies and desires a high degree of customization, or you need to integrate with a wide array of technologies, NPSP could be the right choice. 
Making your choice
To help make your final CRM system decision, let's compare the main audiences for each top option. Organizations that turn to Blackbaud for their data management solutions often have:
More straightforward needs and strategies
A desire to have a shorter implementation period
Less of a need for customization or integration
Alternatively, Salesforce appeals to organizations with:
More complex needs and strategies
More available time for the implementation process
A desire and need for more customization and integrations
Also, beyond Blackbaud and Salesforce, there are plenty of additional CRM providers you may run into in your search. As you investigate each option, reference your specifications, and measure each solution against your end goals. 
It's a good idea to work with a nonprofit consultant who specializes in guiding organizations through this process. Once you've chosen a system, having a nonprofit tech specialist's assistance to manage the transition of your data to your new solution is a necessity. 
Without expert help, it's difficult to make the most out of any software solution, and the process could take significantly longer than needed. Consider bringing on an expert from the beginning to simplify this process for your team.
---
Ultimately, organizations need access to powerful software solutions to streamline operations and increase their digital strategy success. To find the best choice for your nonprofit, be sure to analyze your requirements to determine the essential features you need in a CRM solution. Investigate your top options and collaborate with a tech specialist to make the process a success. Good luck!
About the author
Carl Diesing, Managing Director – Carl co-founded DNL OmniMedia in 2006 and has grown the team to accommodate clients with on-going web development projects. Together DNL OmniMedia has worked with over 100 organizations to assist them with accomplishing their online goals. As Managing Director of DNL OmniMedia, Carl works with nonprofits and their technology to foster fundraising, create awareness, cure disease, and solve social issues. Carl lives in the Hudson Valley with his wife Sarah and their two children Charlie and Evelyn.